THURSDAY EVENING KEYNOTE
KATHY KLEIMAN, Founder of the ENIAC Programmers Project, Historian and Author
Kathy Kleiman discovered the ENIAC Programmers as an undergraduate looking for role models in computer science. She became friends with four of the ENIAC 6 – the six women who programmed ENIAC (world's first all-electronic, programmable, general-purpose computer) as part of a secret WWII project. Her oral histories of Jean Jennings Bartik, Marlyn Wescoff Meltzer, Betty Snyder Holberton and Kathleen McNulty Mauchly Antonelli will shortly be on their way to the archives at Harvard. Her documentary The Computers: the Remarkable Story of the ENIAC Programmers premiered at the Seattle International Film Festival and won Best Documentary Short at the United Nations Association Film Festival. It is being shown at schools, colleges and companies around the world.
When not sharing stories of women programming pioneers, Kathy is a lawyer in the field of Internet law and policy. She helps to negotiate the rules for the global domain name system as part of ICANN (Internet Corporation for Assigned Names and Number). This year she is a Visiting Scholar at Princeton University's Center for Information Technology Policy.
FRIDAY NOONTIME KEYNOTE
ANDREA GUENDELMAN, Co-founder of BeVisible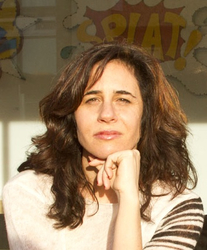 After graduating from Harvard Law School and working at a non-profit focused on Hispanic education and as a corporate lawyer in New York, Washington, D.C., and New Mexico, Andrea Guendelman started Common Pitch Chile in partnership with El Mercurio in 2012, Technolochicas in partnership with NCWIT and Televisa Foundation in 2014 and most recently, BeVisible in 2015.
BeVisible is a social media career network that connects Latinos and Latinas across the country. For recruiters, Be Visible is making it easy to access a talented pool of individuals whom they already know self-identify as Latinx, something no other platform can do.
Andrea is currently launching Project Wallbreakers, an initiative to source, train and connect the most talented software engineers in the nation graduating from college to the most progressive companies in the innovation economy.